We are closing out the Betsy and the Sally their nice shoes but time to make something different when they're gone there gone.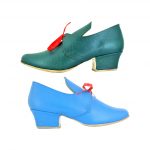 We have over 210 Button styles and can deliver any quantity with a quick turnaround. We make regimental buttons and even exclusive buttons for clothing designers. Most of our buttons are cast in Britannia pewter (lead-free). We have brass bone and horn buttons. Call if you don't see what you're looking for.
Do you need 100,000 or just 100 custom buttons?