Description
We are closing out the Betsy and the Sally their nice shoes but time to make something different when they're gone there gone.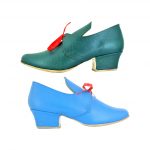 Colonial Williamsburg had three buttons made with their logo, this is the largest, #170. There is a rampant Lion on one side of the Shield and a Unicorn on the other side.
Size is 7/8″ Price 1 to 12 @ .92 each, 13 to 144 @ .84 each, and .74 over a gross. Matching buttons: 171 & 172.