Different Sizes Matching Design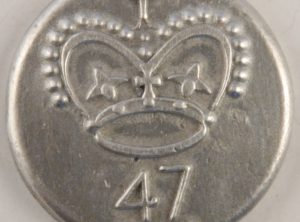 47th Officers Pewter Button 7/8″, 153. Hand made in the USA
The unit Crown's 47th button officer's button is different from the enlisted men. #153 is 7/8″. The Crown above the 47 number. If you need them gold plated please call Alex 800 605 8280.
the price for 153 L is 1 to 12 @.92 each, 13 to 144 @ .84 each and over a gross .74 each.
Matching button is 155 S. We also carry this button in a long shaft, so that it can go through the layers of wool on the top coats, 153 L-L.
not rated
$

1.05
Add to cart