We are closing out the Betsy and the Sally their nice shoes but time to make something different when they're gone there gone.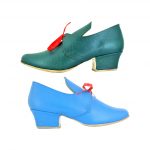 Women's Colonial Shoes
Until recently, museums and collectors kept only the fanciest footwear. Work shoes were thrown out like old sneakers. Most of the surviving women's shoes of the Colonial era were made of linen or silk. The problem with fabric shoes is that the unending varieties of linen and damask and ball gown material make it impossible to make a shoe except on an individual basis see Fugawees Brocade line. We studied dozens of books and surviving leather shoes in museum collections. We found that the etchings of Hogarth (1740-1780) were a gold mine of information on Colonial period shoes. We also designed several models in leather that may be dyed to any color you desire.  includes Anna, Barbra, Cheri, Connie, Debbie, Martha, Jennifer, Louise, and Sally.