Description
We are closing out the Betsy and the Sally their nice shoes but time to make something different when they're gone there gone.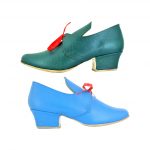 -The Barbra is the woman's version of our 1758 or Ligonier shoe. Low heel, straight last, round toe, unlined, and available in
smooth or rough-out leather. This is more of a trekking or an all-around camp shoe for them that might get into a little mud, rain, rocks or just lots
of walking. This is a thick soled shoe unlike some of the other more dainty ladies. Call with questions, Please.
Sturdy and stable on a city street paved with cobblestones or on the rough turf of a campground. May be worn with ties or buckles.
Buckles sold separately
size 6B-10C, full & half sizes