We are closing out the Betsy and the Sally their nice shoes but time to make something different when they're gone there gone.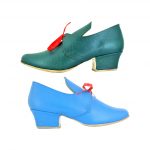 All Buckles are sold in Pairs. Call for pricing if you just want one for possibles bags or gear straps.

What buckles should use? Since we carry so many styles it does get confusing. This is still a matter of personal choice as the design of which style reflects not only the persona that you are portraying but your own style too.
To help we will break them down into general groups.
The Military would tend to wear a plain-faced buckle. The earlier the smaller the buckle would be, as the Military #1: brass was common but there were silver colored metals used as well. Pewter, Pennypinch, Nickel (white bronze) and Sliver. Then toward the midcentury, the large and wider faces would be in favor. Military # 3, Military #4. Brass and Iron Oval and The Pewter Midshipmen would also be a choice here for the brass color or silver color buckles.
The Middle class and Tradesmen might go for more design for their shoes. After all, they got passed the large silk bow for their shoes several decades earlier. For the conservative man might choice the Basketweave, Swill or Rope style in either Brass or white metal.
The Upper class might show off more elaborate buckles such as the Tudor, Swirl, Pierced, Great Thistle as they were or for the final show of financial accomplishment, have them studded with gemstones. In our case, we use crystal in gem colors. Brass or Silver metal is still, what goes with what you have to wear.
The general populous fit into these groups would tie their shoes or use Steel buckles or whatever came available to them. Remember these buckles lasted a long time and were Passed down, in the family and also from the employer. There is much more evidence of brass buckles or non-nonferrous buckles available because of rust. A lot of the excavated nonferrous buckles have steel chapes and fork that time has oxidized away.
For the Ladies, it is much the same. Plain for workers Brass seems more used but there still were Silver metals that were available. Ladies Plain buckle, Vine and Leaf for shoes like the Barbara, Connie would be appropriate. There might be a small difference for the Debbie and Martha, the Ribbon or Celtic would be as at home here as the Plain, or Vine & Leaf. It would not be incorrect to use one of the larger buckles if the shoe would carry it.
Of course to add elegance gem added to the buckle or even using the Pierced buckle with colored stones to match her gown would also make a statement of place in society.
Although our tension buckle may not be of the period, it does look very well with the Martha and so easy to use.
All Buckles are sold in Pairs. Call for pricing if you just want one for possibles bags or gear straps.