Military or Civilian. Brass, White Bronze, pewter and steel Buckles. This includes Shoe buckles,
knee buckles, and Tension buckles. From your shoes to your pants you need a buckle.  All Fugawee buckles are lost wax cast in brass, white bronze, steel or pewter.
All buckles are sold in pair.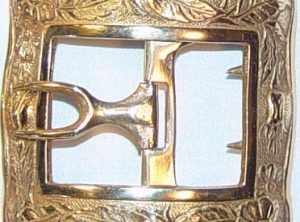 Great Thistle shoe buckle, Brass
Buckles are still a matter of personal choice as to design, each style reflects not only the persona that you are portraying but your own style too.
The Great Thistle buckle is a bit larger in overall size but will fit our latchets. 2 1/2″x 2 1/2″ with an opening that will accept 1 1/4″ latchet. Brass,
not rated
$

38.50
Add to cart