Description
We are closing out the Betsy and the Sally their nice shoes but time to make something different when they're gone there gone.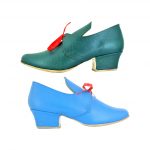 Pierced Buckle,1-7/8″x1-3/4″ Opening 1-1/8″ White Bronze. This buckle is nice as is, or we can set Crystals in the openings to make an outstanding fancy gem buckle for you as a Fop impression. Choice of 7 colors in CZ's price for plain$38.50, set with stones $55.00
What buckles should use? Since we carry so many styles it does get confusing. This is still a matter of personal choice as the design of which style reflects not only the persona that you are portraying but your own style too.
The Middle class and Tradesmen might go for more design for their shoes. After all, they got passed the large silk bow for their shoes several decades earlier. For the conservative man might choice the Basketweave, Swill or Rope style in either Brass or white metal.
The Upper class might show off more elaborate buckles such as the Tudor, Swirl, Pierced, Great Thistle as they were or for the final show of financial accomplishment, have them studded with gemstones. In our case, we use crystal in gem colors. Brass or Silver metal is still, what goes with what you have to wear.