Description
We are closing out the Betsy and the Sally their nice shoes but time to make something different when they're gone there gone.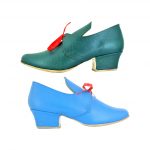 Knee Buckle, Fancy buckle in white bronze.  This has a floral line design, and requires no holes to be punched into the leather latchets.  It can be put on and tighten easily. The size is 1 1/8 x 1 1/4″ and will fit on the 1 /14″ latchets. If you purchase with a pair of shoes there is no extra shipping cost.  Price per pair $22.00
Buckles for knee breeches make the final touch on your outfit. They are infinitely adjustable and require no fancy knots. One button hole per knee makes the construction of your breeches easier as well.
These buckles look like the shoe buckles except that they are sized to fit the strap at the knee.  They have a T-shaped hook to go through the single button hole in the main part of they knee strap. The two prongs then go through the fabric of the strap. This also works on brain-tan breeches without damaging the leather..