Description
We are closing out the Betsy and the Sally their nice shoes but time to make something different when they're gone there gone.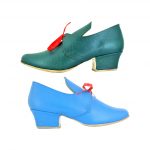 Hello Eagle Nation
514 Belt buckles in solid bronze with a black background this is a white metal with a raised lettering and a
loop and spike on the back. Rides good and is noticed. Ships Free.
 Comes in black background and bright. I only have 500 of these so orders soon.
Brother Dippy
FL-21