Description
We are closing out the Betsy and the Sally their nice shoes but time to make something different when they're gone there gone.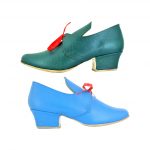 Sally is new in the series of Anna and Cheri. It is a green  tie shoe, with a ribbon or lace. It has a comfortable heel height and will brighten up your period dress with a bit of color beneath your skirts. Colonial dress was not at all drab but had lots of colors. This is a left/right "crooked" shoe.
Sizes are 5 to 12 in widths of "B" average, "C" wide and "D" extra wide. The Extra wide "D" will better accommodate men's sizes plus an increase of a size for the conversion to fit a man's foot. Perfect for the Fop.