Description
We are closing out the Betsy and the Sally their nice shoes but time to make something different when they're gone there gone.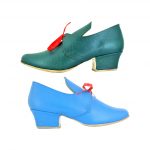 This boot later became the proper, "four inches above the ankle" Jefferson Bootee for 1812, Seminole War and Mexican War.  Remember, all laced shoes were called "Jefferson" until the 1880s.  The black boot was used in the Military and is a left/right crooked last.  The other Trekkers were so popular and many customers were dying them black, we decided to have the leather black to begin with. Dyed black, these duplicate military shoes from 1812 through the Mexican war. See the QM Corps official website. http://www.qmfound.com/changes_in_the_army_uniform_1895.htm
Full and half sizes 7 to 15, widths D and EE meet the sizing of modern shoes, but you may need an extra size as the sloop of the leather to the toe, may need more room in front of the big toe.  That is what gives the boot the look of the 18th Century.
Trekkers come with cotton laces and a pair of leather laces are provided too.