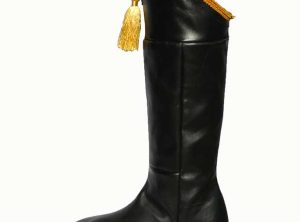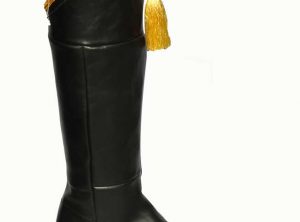 Hessian boot re-production
 Fugawee's Hessian boot is another well made long lasting leather boot, Steel shank construction. Stacked leather heel, fully lined.  The boots do not come with a tassel,  These have a narrow shaft so those with large calves they might not work for you.
not rated
$

335.00
Select options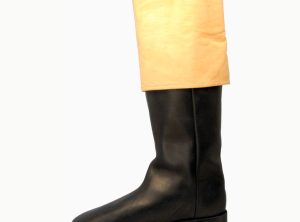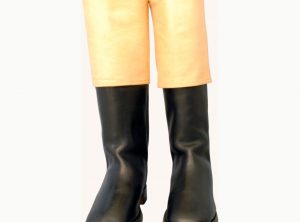 Revere Boot, turn down cuff
The Revere boot is built upon a squarish antique last.  It has a rounded shank that fits a stirrup well.  The shank is held in place by pegs but the rest of the sole is lock-stitched.  The Revere boot has a steam-molded front piece and a full calfskin lining.  The exterior is polished black calfskin. 
The boot is almost a straight last but indeed it is a left/right.  This will make it more comfortable for walking.  Please mark somewhere inside which is for the right foot.  My husband had not done this and about mid-day he wondered why his feet didn't feel right.  Sure enough, he had put them on the wrong way.  After that all was good.  So we suggest that you mark the inside for each foot.
not rated
$

344.75
Select options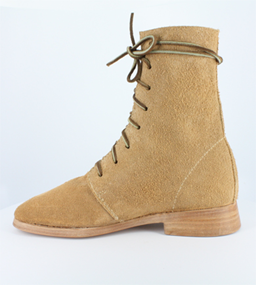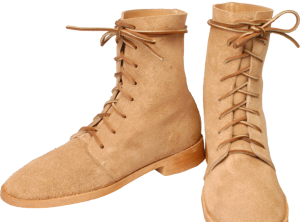 Hi-Low Trekkers, straight last, natural rough-out leather
Hi-Lows are the straight last in the Trekker series.  All leather natural rough-out, lace up half boot. sizes 6 to 15
If you look at the American Rifleman article on muskets of the Revolution, you will see that Troiani portraysGeneral Warren standing atop the parapet with sword in hand as he waits to see "the whites of their eyes."  He is wearing black Hi-Lows / Black Half Boots.
not rated
$

176.49
Select options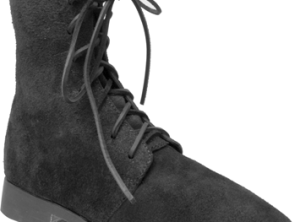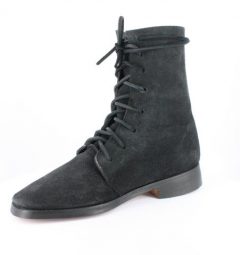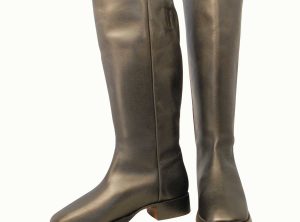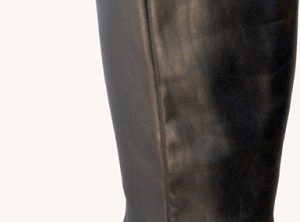 Historic Stovepipe Boot, black smooth side out
The Stovepipe is close to all around or common boot.  It comes high on the leg, almost to the knee.  The leg is wider so the trousers can be tucked in them.  It is a two piece pattern with 1 1/4″ stacked heel. It has inside pull tabs to make it easier to pull on.
not rated
$

296.26
Select options