Description
We are closing out the Betsy and the Sally their nice shoes but time to make something different when they're gone there gone.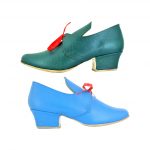 The Stovepipe boot is dated 1747 to 1900.   It was first known as a Common Boot.  Reaching almost to the knee and wide enough so the trousers could be tucked.  We may find that it dates back further but so far that is the best dates I can find.  We have had requests for this two-piece boot, so we hope it will fill in

for the person
you are trying to create.
As you can tell it is almost a straight last, but it is a left/right.  That means that the arch in the boot will make it comfortable for walking as for riding.  A steel shank will give a long life to this fine boot.
The leg has been widened so you can wear these boots outside of your trousers.  The leg height is 17″, proportioned to the size. It is lined with calfskin, has pull tabs (not mule ears) on the outside of the top. The toe is a moderate square and the heel is 1 1/4″.  The leather is black and smooth but not a high shine. It has a full lining.
This boot should be good for drovers, prospectors and shooters (before the cowboy boots).
Be sure to have your calf measurement when ordering.
Full and half sizes 5EE to 15EE.    Women should order one size smaller in men's sizes.