Description
We are closing out the Betsy and the Sally their nice shoes but time to make something different when they're gone there gone.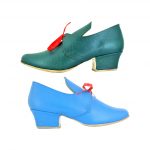 The Southern or Monticello model. also appropriate as a work shoe from the early 1800's until the present day,  is built on the same lasts as the Federal Contract Bootee. It has five lace holes and a pull tab on the back of the boot. Its color is russet or natural and the rough-out model takes on a beautiful color when given a coat of  Lexol or other oil.  Rough out only.
When you want a good shoe so your feet don't hurt, no break in time, Vegetable tanned upper, oak tanned inner and outer sole. McKay stitched not Goodyear welted. This is a well built sturdy shoe. Heel plates and hobnails will extend the life of the sole.