Description
We are closing out the Betsy and the Sally their nice shoes but time to make something different when they're gone there gone.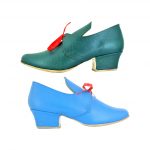 Civil War Ankle boot, Victoria is a fully leather lined flat heeled, fitted ankle-high bootee for the ladies. It has a tapered, squarish toe cap and is made of soft leather on a left/right last.  It is the same comfortable fit as the original Victoria, with 2 elastic gussets and new Bone color that will go with your summer outfits or double as ballroom shoes. Victoria original was all Black. Now there is a group, two-tone Sara, Jenny Lynn and all White..
Full and half sizes from 6 to 12, widths; medium M, wide W and extra wide EW.