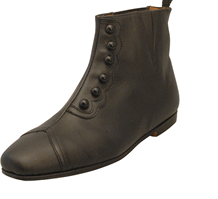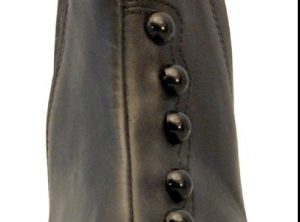 a Victoria, Black
Black Victoria is a Ladies fully leather lined ankle-high pull-on bootee. Black is one of three color choices.
not rated
$

129.95
Select options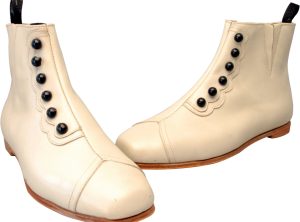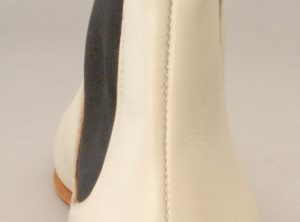 _ Victoria, Bone
The Victoria is something new for the Civil War ladies. The moment you hold Victoria you will know that you have a quality shoe in your hand. Comfort, quality and authenticity are all brought by Victoria
Victoria is a fully leather lined flat heeled, fitted ankle-high bootee for the ladies. Victoria has a tapered, squarish toe cap and is made of soft leather on a left\right last. We have been getting some complaints that ladies with sturdy feet or stronger ankles are experiencing difficulty with getting into the Victoria. We have made a slight adjustment by adding another elastic gusset.
Victoria has six jet black buttons on the front of the shoe but there is no need for a button hook.
not rated
$

129.95
Select options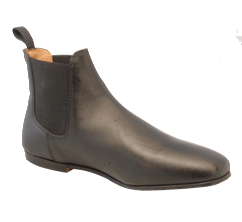 Rose, Civil War ankle boot
The Rose is a black smooth leather shoe with plain toe, 1/4″ leather heel, 2 elastic gussets and a tab on the back. Leather heel and sole.
You can wear this with your modern clothes and it fits perfectly when you dressed out in Civil War day dress.
full and half sizes 6- 11, widths medium M and wide W.
not rated
$

129.00
Select options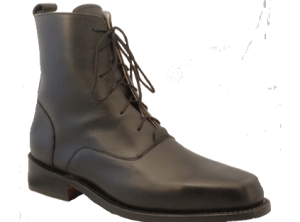 Stella, Civil War Ladies Boot
Stella: All leather, no out of period rubber heels.   Lace-up boot is made from full grain black smooth leather.   Stella has a 1-inch leather heel and a full toe area.  This will keep you comfortable all day. Full and half sizes 5 – 12
not rated
$

189.99
Select options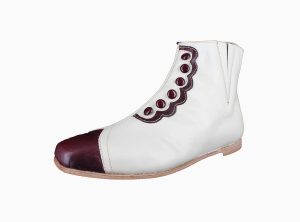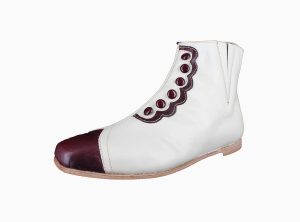 Sale!
Close Out Mules (slippers) 18th and 19th Century
The Mule is a simple, comfy and beautiful footwear that comes down thru the ages .  Easy to slip on and with a leather sole so it can go from the bedroom to outside. It has a moderate heel and decorative trim across the arch.
The leather backed tapestry fabric will change from time to time as fabric gets used up, but we always pick a new fabric with heirloom design in mind.  Full and half sizes 5- 12 all in width C.
not rated
Select options