Description
We are closing out the Betsy and the Sally their nice shoes but time to make something different when they're gone there gone.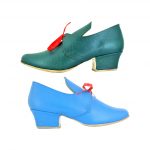 Hi-Lows,  Buskins,  Trekkers 
Black & Natural laced Half Boots
Several names for the same boot. This type of footwear was seen in paintings of English sporting scenes in the mid-1700s. It was firmly established in the new Republic before the Revolution. 
The Natural Half Boot, Colonial to begin with,  later became the proper, "four inches above the ankle" Jefferson Bootee for 1812, Seminole War and Mexican War.  Remember, all laced shoes were called "Jefferson" until the 1880s.
All leather, 8 lace holes, natural color rough-out half boot. This is a left/right boot.
Full and half sizes 7 to 15, widths D and EE  price $176.49