Description
We are closing out the Betsy and the Sally their nice shoes but time to make something different when they're gone there gone.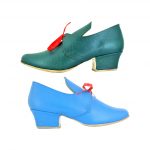 The pattern for the Debbie was taken directly from one of Hogarth's etchings of eighteenth century life. It is made on a left/right last.  It is made of supple leather with a moderate 1-3/4″  squash heel This shoe is made for those that need a roomier toe, and a wider shoe. The toe is pointed and slightly rounded for more room.  It is a lined shoe  It can be worn with a buckle or ties.
Buckles sold separately. All of our buckles will fit the 1 1/4″ latchets.  We have smaller overall sized buckles for a more demure look and they fit our latchets.
Full and half sizes 5 to 12 widths medium M and wide W,