Description
We are closing out the Betsy and the Sally their nice shoes but time to make something different when they're gone there gone.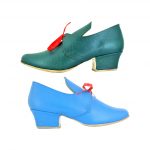 The Crown's 47th button Enlisted's long shank button has a long shank so that the button will be able to go through many layers of wool. All else is the same as the regular #154. The size is 7/8″.
The matching button is 156 S.