Description
We are closing out the Betsy and the Sally their nice shoes but time to make something different when they're gone there gone.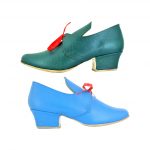 The Crown's 47th button officer's button is different from the Enlisted's. The #155 L-long shank is 5/8″. The Crown shows above the 47 number.
the price for 155 S is 1 to 12 @.70 each, 13 to 144 @ .65 each and over a gross .57 each.
The matching button is 153 L.