Description
We are closing out the Betsy and the Sally their nice shoes but time to make something different when they're gone there gone.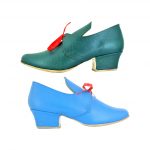 113 L, is the larger of the two Peaked buttons. Good for Military or Civilian use. Price 1 to 12 @.92 each, 13 to 144 @.84 each and over a gross .74 each. size 13/16″.
Good for all Civilian use on Coats, waistcoats and breeches. Matching smaller button # 112.