Description
We are closing out the Betsy and the Sally their nice shoes but time to make something different when they're gone there gone.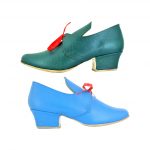 This decorative button has a swirl around he edge and a star in the center. 117 M(medium) is 5/8, price 1 to 12 @.55 each, 13 to 144 @ .48 each and over 144 @ .40 each,
Small enough for cuffs or waistcoats. Matching larger size is 118 L.