Description
We are closing out the Betsy and the Sally their nice shoes but time to make something different when they're gone there gone.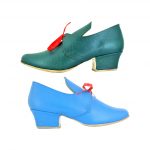 F119-1/2 inch.  This small button is only 1/2″ but has a high dome. 119 S is fine for the neckline, waistcoat or cuff.  A popular design.
Price; 1 to 12 @ .70 each, 13 to 144 @ .65 each, and over 144 @ .55 each.