Description
We are closing out the Betsy and the Sally their nice shoes but time to make something different when they're gone there gone.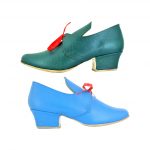 Military buttons are important. We have #132  which is an "I" Infantry Eagle pewter button. The size is 3/4″. Price on the 132 M: 1 to 12 @ .70 each, 13 to 144 @.65 each and a gross or more $.47 each.
Matching button is 131 S.  Eagle, wings spread with branch and arrows. Domed.