Description
We are closing out the Betsy and the Sally their nice shoes but time to make something different when they're gone there gone.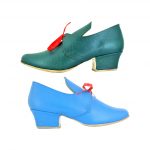 S133 9/16.  The Lightner Museum in St. Augustine was clearing out some of their collections of buttons and I was fortunate enough to get a number of them for my collection. This is a fine example of a floral design with a tooth edge to set it off.  It is a Rose nestled in a swirl of leaves. It would be best in the Civil War era or even with modern clothing.
Price; 1 to 12 @.55 each, 13 to 144 @ .48 each, and over a gross .40 each. Size is 9/16″. # 133.  Floral with ragged edge.