Description
We are closing out the Betsy and the Sally their nice shoes but time to make something different when they're gone there gone.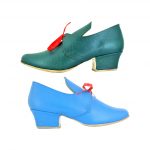 Button #77 L is the larger in the series of matching pewter buttons that has the number 76 on the front.  It is 7/8 " in size and priced: 1 to 12 @ .92 each, 12 to 144 @ .84 each and over 145 @ .74 each. These buttons were made for the unit with instructions as to their design.  Pewter for enlisted, gold for officers.
Matches 77 L   Special order for gold plating, please call for information as to quantity and price.