Description
We are closing out the Betsy and the Sally their nice shoes but time to make something different when they're gone there gone.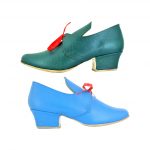 S is for small, 127 is the number of the button. This button is 5/8″ and is good for vests, light jackets and sleeve buttons.
The material is Britannia pewter.   There are 5 buttons flat face buttons this in different sizes, also a tiny button for shirt collars.
Good for your vests, light jackets and shirt cuffs. Generic.
Matching buttons, 129, 130,128,126 and 147 in descending sizes.
Quantity 1 – 12 @.55 each, 12 – 144 @ .48 each, over 144 @ 40 each.