Description
We are closing out the Betsy and the Sally their nice shoes but time to make something different when they're gone there gone.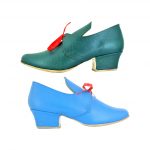 Military buttons are important. We have 131 S, which is an "I" Eagle Infantry pewter button. The size on this is 1/2″, and we also carry the matching 3/4″ button #132.  Price on the 131 S: 1 to 12 @ .55 each, 13 to 144 @.48 each and a gross or more $.40 each.
Matching button is 132 M.  Eagle, wings spread with branch and arrows.