Description
We are closing out the Betsy and the Sally their nice shoes but time to make something different when they're gone there gone.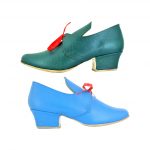 Button #104 S is in the series of matching concave pewter buttons.  It is 9/16″ in size and priced 1 to 12 @ .55 each, 12 to 144 @ .48 each and over 145 @ .40 each.
Matches 103 S and F 105.
These are hard to see in the photo but each is concave in shape.  Matching 4 hole button for 149.