Description
We are closing out the Betsy and the Sally their nice shoes but time to make something different when they're gone there gone.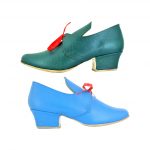 This series of 3 buttons are domed with rim. The rim increases with the size. The next size up is 109 F/m (medium), it is 11/16″and a favorite with seamstress's for this period. price 1 to 12 @ .70 each, 13 to 144 @ .65 each and over a gross (144) .55 each.
Matching buttons are 108 S M and 110 L. Domed with rim, pewter button.  Generic.