Description
We are closing out the Betsy and the Sally their nice shoes but time to make something different when they're gone there gone.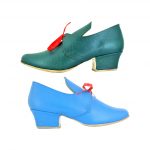 107 L is the largest size in the series of domed buttons. It's size is 13/16″: price:  1 to 12 @.92 each, 13 to 144 @ .84 each and over 144 @ .74 each. Made in Britannia pewter which is lead-free, the same as all our pewter products.
Matching domed buttons are 173 and 106. Good for Military and Civilian use.