Description
We are closing out the Betsy and the Sally their nice shoes but time to make something different when they're gone there gone.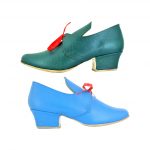 Blue Frog gave me this metal that was excavated and said I should make a button from it. He did not know of any in existence. It is a true duplication of the metal. The size of the 181 L is ONE inch. It is a bit lopsided as part of the metal was gone from being buried. Texas is tough so we left it as it came to us. Price; 1 to 12 @ .92 each, 13 to 144 @ .84 each and over a gross .74 each.
Then we made a matching smaller version 180 S.