Description
We are closing out the Betsy and the Sally their nice shoes but time to make something different when they're gone there gone.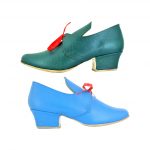 Ease to sew, secure and can be used on either side up. Size is 7/8″ and that has a lot of places it can be used. Price; 1 to 12 @ .92, 13 to 144 @ .84 each, over a gross the price is .74 each. Hand cast in the USA.
This is the matching 4 hole matching button for 149.
more common in Civil War Generic