Description
We are closing out the Betsy and the Sally their nice shoes but time to make something different when they're gone there gone.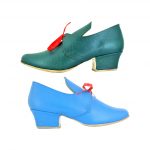 138 is a button that was taken from an original. It has a strong presence on any garment. Size is 3/4″, a very useful size. Price 1 to 12 @ .70 each, 13 to 144 @ .65 each, and over a gross .47 each.
This is a heavy button with a strong loop on the back.