Description
We are closing out the Betsy and the Sally their nice shoes but time to make something different when they're gone there gone.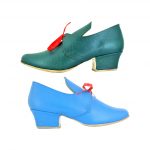 F162-3/4 inches.  "Forget me not" button, 12 stars around the dotted edge, this is so Victorian. Size 3/4″ is perfect for so many projects.
An early button like this may have been made in copper.  Earlier era.