Description
We are closing out the Betsy and the Sally their nice shoes but time to make something different when they're gone there gone.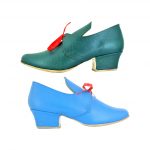 175 L is a higher dome than most our buttons. It has been Hand Hammered, each stroke is visible. It will fit  right at home on Cloaks, Great coats. It is 1-1/4″ Price is 1 to 12 @ .92 each, 13 to 144 @ .84 each, and over a gross @ .74 each.
Matching large button is 173-S.  High Domed Pewter Button.  Made in USA, hand hammered look.