Description
We are closing out the Betsy and the Sally their nice shoes but time to make something different when they're gone there gone.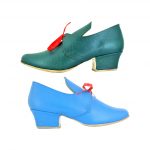 Two sizes for this pretty button. The floral pattern has openings so that what ever color you are wearing it will show through. 157 is the smaller of the two at only 5/8″. Some have earring made from these. Button price 1 to 12 @ .55 each, 13 to 144 @ .48 each, more than a gross, .40 each.
Matching larger button is 158 L.