Description
We are closing out the Betsy and the Sally their nice shoes but time to make something different when they're gone there gone.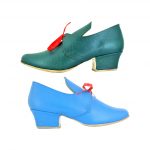 Looks like Tin, but it is Stainless Steel, satin finish: How many times have you come back to camp and forgotten to clean your tinware?  It is gross in the morning.  Not with these look-a-likes.  Will not corrode and easily cleaned.
The Cowboy Coffee pot will work on the CW campfire or the Cowboy era.   It holds 4 cups.  The top is attached so it won't get lost, top spout makes for easy pours.
Your new longtime morning friend. Fugawee's Top-spout coffee pot.