Description
We are closing out the Betsy and the Sally their nice shoes but time to make something different when they're gone there gone.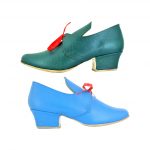 The Josie is the sister boot to Stella.  a slightly rounded toe and a bit shorter in the leg.  The softer leather gives its comfy feel.  This comes in a wide size, black-smooth leather. Styling is a bit more feminine with softer curves, lace-up and a 1-1/4″ stacked heel, all leather sole.
full and half sizes 5 -12,  Wide width only.