Description
We are closing out the Betsy and the Sally their nice shoes but time to make something different when they're gone there gone.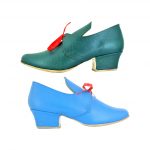 The Oval Gem buckle uses the Lace tension buckle and any of  the 7 colored CZ that we carry can be placed in the buckle as show. Available crystal colors: Emerald, Garnet, Topaz, Sapphire, Amethyst, Aqua, Peridot, Tanzanite, Rose, Ruby or Aura Borealis. Buckle with 6 CZ, color of your choice $ 30.00 pair
Although our tension buckle may not be of the period, it does look very well with the Martha and so easy to use. We have seen something like this used for a belt closer. There are no holes to be punched into the leather with this buckle.
The Brass Gem buckle can take up to 6 CZ's.  Either all one color or of your choice of combinations..
Of course to add elegance gem added to the buckle or even using the  buckle with colored stones to match her gown would also make a statement of place in society.