Description
We are closing out the Betsy and the Sally their nice shoes but time to make something different when they're gone there gone.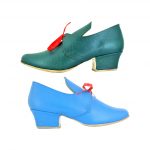 The Lexington is 5/8 of an inch deeper than the regular Concord. The Lexington only comes in smooth at this time. This shoe is to afford the more mature reenactors space to place orthotics inserts or Inner soles without compromising fit. Thus giving more time to walk about, instead of sitting with aching feet wishing you could go visit.The left/right Concord And "Lexington" is unlined and made of a heavier leather than the Franklin.
At this time we carry sizes 7D to 15EE.