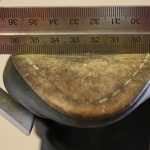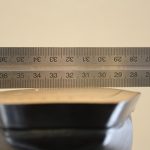 Wet morning or a rainy day? Mink Oil is fine, but there are more aggressive products Available. NeverWet by Rust-Oleum I haven't tried it yet, but I have never been disappointed by a Rust-oleum product. Huberds shoe grease https://www.huberds.com/ this is from coal country and coal miners like it. The other place the water can come from is the sole. Once the sole is saturated, it needs time to dry out. Or it will twist and reshape; you will get smiles (where the sole layers separate at the edges) as the leather stretches farther than the adhesive can. The only remedies that I know of are:
You can see the difference that the old pair has no arc it has been worn flat and is need of a resoling. 1: Own more than one pair of shoes. Being able to allow proper drying time is great. Not always feasible. 2: Use a rubber sole saver to prevent the water from being absorbed by the sole.
3: Don't oil your sole the leather will wear very quickly if you do as it becomes saturated puffing up and bein easier to abrade.