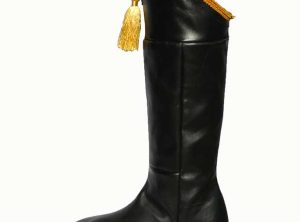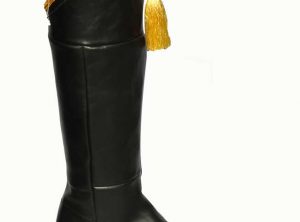 Hessian boot re-production
 Fugawee's Hessian boot is another well made long lasting leather boot, Steel shank construction. Stacked leather heel, fully lined.  The boots do not come with a tassel,  These have a narrow shaft so those with large calves they might not work for you.
not rated
$

335.00
Select options
Hi-Lows,  Buskins,  Trekkers
Black & Natural laced Half Boots
Several names for the same boot. This type of footwear was seen in paintings of English sporting scenes in the mid-1700s. It was firmly established in the new Republic before the Revolution. Thomas Jefferson's hi-low "Overshoes" may be seen in "Collector's Illustrated.   Encyclopedia of the American Revolution". Castle Books 1975 Neumann and Kravic (pg 123)
Dyed black, these duplicate military shoes from 1812 through the Mexican war. See the QM Corps official website. http://www.qmfound.com/changes_in_the_army_uniform_1895.htm or look below for a Left/right model.
June Swann, foremost British shoe expert says in "Shoes" (ISBN 0 7134 0942 8) P.28: …..Also, see Troiani's Lexington Minute Man.
The Trekker series is very popular and mainly the style is the same.
As to the fit, since the leather on the toe slopes, we suggest 1/2 size larger than your modern dress shoes. We carry widths of D and EE which are the same as modern sizing.