We are closing out the Betsy and the Sally their nice shoes but time to make something different when they're gone there gone.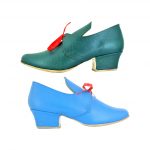 Hi,
Just a short note to say I received my "Josie" boots today. They fit perfectly right out of the box.
These will go nicely with my vivandiere uniform. Thank you so much.
Tami