We are closing out the Betsy and the Sally their nice shoes but time to make something different when they're gone there gone.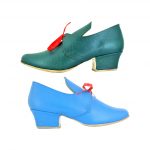 *Edited to reflect a resolution*
I'm updating my review because shortly after it was posted Fugawee reached out to me via PM (and while over a national holiday!) to help rectify the situation and find
out what may have caused my shoes to wear the way they did. I called the shop and spoke the Liz who was extremely helpful and reassured me that in fact my shoes were not meant to wear out that quickly and they were more than likely a manufacturers defect. They offered to take back my existing shoes to see first hand what had happened and in return replace them with the same style at no charge. I am beyond thrilled to find out that Fugawee values their customers so much as to go as far as reaching out over a holiday to help fix an issue that happened over a month ago on shoes bought back in June! That means a lot to me to find a company so willing to go above and beyond for their customers. I am looking forward to receiving my replacement pair in the mail and since I no longer need to replace them for next season I will be able to buy another style like I was hoping. Given how wonderful this company has been I am more than happy to continue a relationship with them as a dedicated customer.
I'm torn between a 3 and 4-star review. I ordered the Connie smooth side out ladies shoe in early July to wear for this years reenacting season. This was our first year doing the 18th century and I had done the research on what I wanted. I like the variety of styles Fugawee offers and the solid leather construction which is closer to a period style than other manufacturers in this same price range. I received my shoes and was impressed by how easy they were to break in and how comfortable they were. I knew with leather soles to limit my time on asphalt and hard or rocky surfaces and only attended two events that required any sort lengthy exposure to that terrain. My husband took great care to oil and clean them before and after every event and in between long stretches when they weren't worn to protect the leather from drying. I wore them to a total of seven events over a span of three months, by the fifth event the leather soles began to tear away from the stitching on the outside edge of the soles. At this point, my shoes are unable to be worn to another event without compromising their structure and integrity. I bought these Fugawee shoes because they were an affordable, attractive, and period-appropriate choice for our hobby. This was a big purchase for me, as a mother of three to outfit as well, and to read many reviews of how long other people's Fugawee shoes have lasted I'm disappointed to be needing new shoes less than a year into this pair. If these shoes had thicker leather soles and a more solid construction I'd easily rate these shoes a 4 or 5 stars just because of their affordability and their comfort.