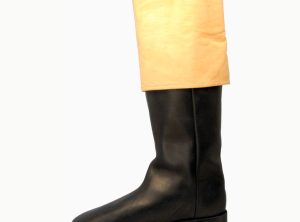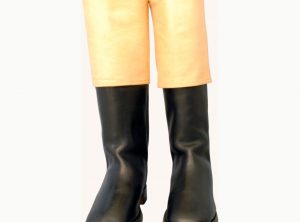 Revere Boot, turn down cuff
The Revere boot is built upon a squarish antique last.  It has a rounded shank that fits a stirrup well.  The shank is held in place by pegs but the rest of the sole is lock-stitched.  The Revere boot has a steam-molded front piece and a full calfskin lining.  The exterior is polished black calfskin. 
The boot is almost a straight last but indeed it is a left/right.  This will make it more comfortable for walking.  Please mark somewhere inside which is for the right foot.  My husband had not done this and about mid-day he wondered why his feet didn't feel right.  Sure enough, he had put them on the wrong way.  After that all was good.  So we suggest that you mark the inside for each foot.
not rated
$

344.75
Select options