Description
We are closing out the Betsy and the Sally their nice shoes but time to make something different when they're gone there gone.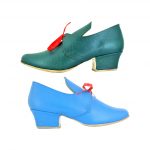 Custom Medallion
Fugawee has been making event medallions for reenactors and events for over 30 years.
These are a few of the hundreds of medallion designs that have been produced by Fugawee through the patience and skill of Nancy Ayotte. Her background includes study at the Art Students' League in New York and jewelry design and fabrication. The two Indian medallions on the right and left are part of a ten-year series of medallions made for the Travers de Sioux celebration in Mankato MN. Each features a bas-relief portrait of one of the chiefs involved in the Great Sioux Uprising of 1862. Nancy works from sketches and photographs to create such designs. The medal with the ribbon is a recognizable reproduction (not a rip-off) of the Spanish American War victory medal. It was manufactured for a museum shop and re-enactor group. There is enough difference in dating and wording so that there can be no confusion. 
Types of medallions