Description
We are closing out the Betsy and the Sally their nice shoes but time to make something different when they're gone there gone.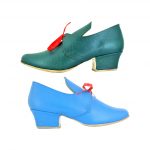 195 is a 1 inch black bone button. It has 4 sewing holes. Buy one @.60 each or over a gross @.33 each.
They are smooth with a low dome, perfect for the strong but almost invisible spots.