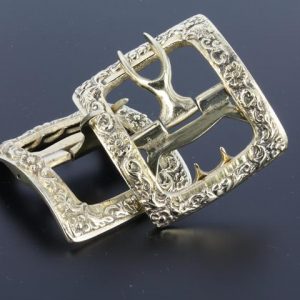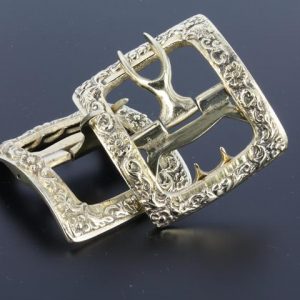 Tudor Colonial white bronze shoe buckle
Tudor style Colonial White Bronze Shoe Buckle gives a flair to your impression. The floral effect is a reflection of the time and your station in life.  The buckle is sold separately but will not incur additional postage if purchased with the shoes.  It will fit our 1 1/4″ latchets.
not rated
$

35.20
Add to cart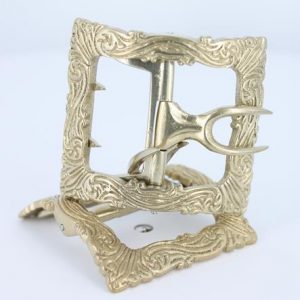 Swirl shoe buckle in White Bronze
Swirl shoe buckles in white bronze, a fancy buckle! But with the addition of gemstones, it will really pop, I have made a belt buckle out of the swirl buckles too. Well cast brass and the unique design give way … Read More
not rated
$

35.20
Add to cart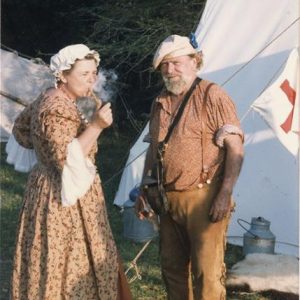 Lace Oval Tension shoe buckle, White Bronze
Lace Oval, tension buckle in white bronze.  This has a floral line design, and requires no holes to be punched into the leather latchets.  It can be put on and tighten easily. The size is 1 1/8 x 1 1/4″ and will fit on the 1 /14″ latchets. If you purchase with a pair of shoes there is no extra shipping cost.  Price per pair $20.90
not rated
$

20.00
Add to cart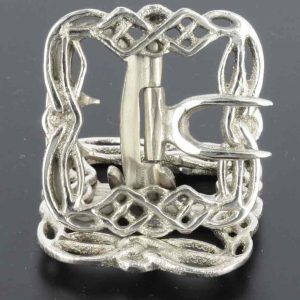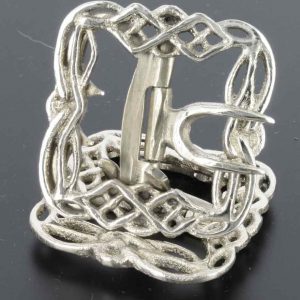 Celtic White Bronze Colonial Shoe buckle
Celtic White Bronze Colonial shoe buckle is an interwoven design. The Celtic goes well with the Connie,or the Debbie for a Scottish impression .  Buckles are sold separately but no added charge for postage when you buy them with your shoes.  Price for a pair of buckles $35.20
not rated
$

35.20
Add to cart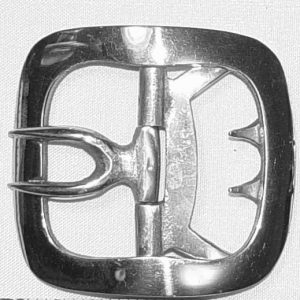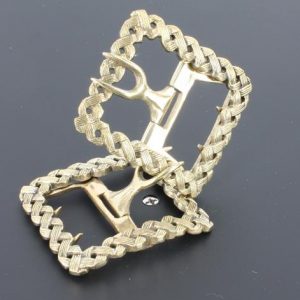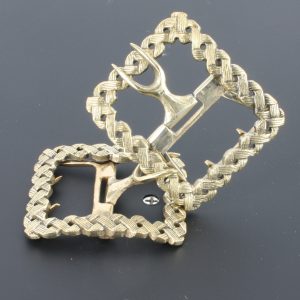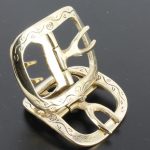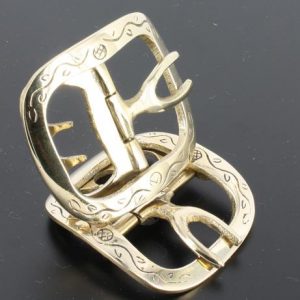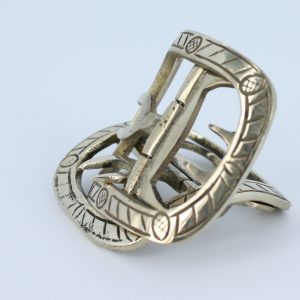 Ribbon Shoe Buckle, white bronze
The Ribbon buckle, in White Bronze, is a smaller buckle that fits the ladies style, it is 1-7/8″x 2″ and fits on our 1-1/4″latchets.
Reflecting the design of a ribbon, this Buckle is suitable for Ladies. Price is $35.20 per pair.
not rated
$

35.20
Add to cart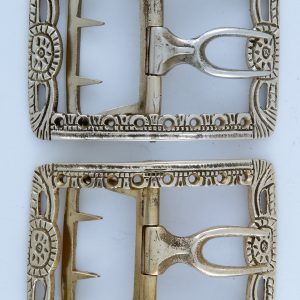 Pierced Shoe Buckle, White Bronze
Pierced Buckle,1-7/8″x1-3/4″ Opening 1-1/8″ in White Bronze. This buckle is nice as it is, or we can set Crystals in the openings to make an outstanding fancy gem buckle for you as a Fop impression. Choice of 7 colors in CZ's price for plain $38.50, set with stones $55.00
not rated
$

38.50
Add to cart
Great Thistle shoe buckle, White Bronze
Buckles are still a matter of personal choice as to design,  each style reflects not only the persona that you are portraying but your own style too.
The Great Thistle buckle is a bit larger in overall size but will fit our latchets. 2 1/2″x 2 1/2″ with an opening that will accept 1 1/4″ latchet. Brass,
not rated
$

38.50
Add to cart